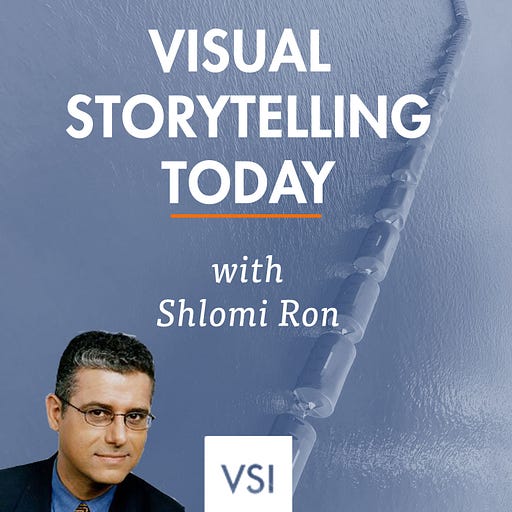 Dec 18, 2019 • 50M
What Makes A Photo Tells A Story?
Did you know that people process visuals 60,000 times faster than text and 9 in 10 people prefer information packaged as stories? Welcome to the Visual Storytelling Today show - your #1 source for the latest actionable visual storytelling ideas you - the marketer or business leader - can easily apply to your business today! Host Shlomi Ron, CEO of the Visual Storytelling Institute, brings you a premium blend of notable visual storytellers from diverse industries as he digs deeper into their journeys, failures, successes, and lessons learned. For a full cross-media storytelling experience, each episode is distributed on audio, video, and blog post.
In this episode, I chat with Jaime Permuth, an award-winning photographer and professor at the School of Visual Arts in New York. With the tremendous growth in photo sharing (people share 95 million photos on Instagram every day!), I am often asked how can you tell a story in a single photo? With video, it's much easier as it's, in essence, a sequence of images where you can tell a complete story with different characters and scenes. But what you do when you need to compress an entire story into a single scene? I discussed with Jaime about his storytelling approach, the key narrative elements he uses. Jaime also presented a few photos and discussed their backstories and the visual storytelling technique the photographer used. Fascinating discussion!
What you will learn:
What was the journey that led you to be involved in photography?

What are the key elements that constitute a visual grammar of a photo?

How can you use these visual grammar elements to tell a compelling story in a single photo?

How do you create an emotional connection between a photo and the audience?
And much more.
To see the photo examples, Jaime discusses watch this episode video recording on Youtube: https://youtu.be/zkT2D_GbW_c
Learn more about our guest on VSI blog: https://www.visualstorytell.com/blog/how-to-personalize-visual-stories-without-creeping-out-your-audience
This podcast is brought to you by the Visual Storytelling Institute (VSI) from Miami, FL.
Order Shlomi Ron's new book:  Total Acuity: Tales with Marketing Morals to Help You Create Richer Visual Brand Stories