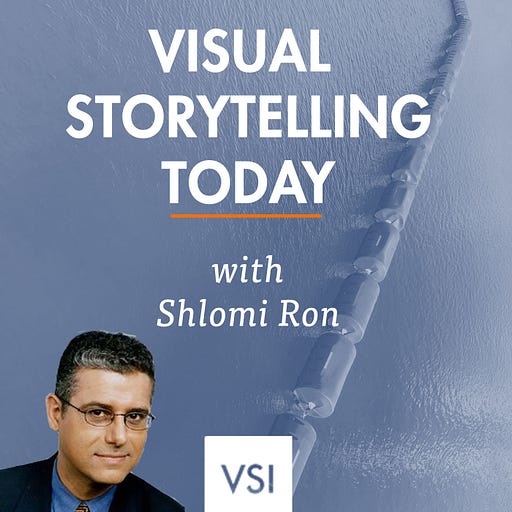 Dec 4, 2017 • 50M
What is B2B visual storytelling?
Did you know that people process visuals 60,000 times faster than text and 9 in 10 people prefer information packaged as stories? Welcome to the Visual Storytelling Today show - your #1 source for the latest actionable visual storytelling ideas you - the marketer or business leader - can easily apply to your business today! Host Shlomi Ron, CEO of the Visual Storytelling Institute, brings you a premium blend of notable visual storytellers from diverse industries as he digs deeper into their journeys, failures, successes, and lessons learned. For a full cross-media storytelling experience, each episode is distributed on audio, video, and blog post.
Do you know how to harness the power of video at each stage of your buyer's journey?
With video expected to make up 80% of all Internet traffic by 2019 (source: Cisco), video has become a dominant tactic in marketer's' toolbox for every stage in the buyer's journey. When you think about it, video is the most accessible visual medium that lets your audience re-enacts real-life events, but remotely.
In this episode, Shlomi Ron, co-founder at The Visual Storytelling Institute is speaking with B2B video storytelling expert, Tyler Lessard, VP Marketing at Vidyard.  
About our guest
Marketing, Product and Business Development executive with a passion for customer-centric problem solving, creative storytelling, and data-driven marketing. Over 15 years of experience in enterprise technology, marketing tech, sales enablement and video marketing. Currently, serves as VP Marketing at Vidyard.com, a versatile B2B video marketing platform, host of the Content Pros podcast, Chief Architect of Viewtopia and avid Chalk Talker.
What you will learn:
Why is video vital to crafting a business story?

What is the definition of B2B video storytelling?

What are the core challenges marketers are facing today when developing their own video storytelling strategies? Outsource vs. bringing in-house?

2 examples of successful B2B video storytelling 

3 basic video marketing tips you can apply to your business today
Read our episode's blog post about this topic on VSI Blog.
This podcast is brought to you by the Visual Storytelling Institute (VSI) from Miami, FL.