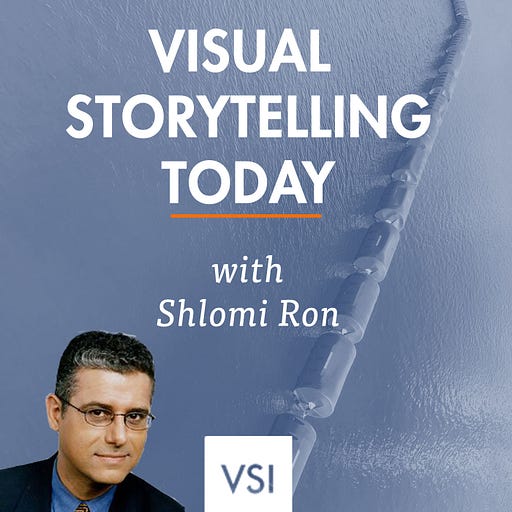 Mar 2, 2020 • 50M
The Art of Live Sketching at Events
Did you know that people process visuals 60,000 times faster than text and 9 in 10 people prefer information packaged as stories? Welcome to the Visual Storytelling Today show - your #1 source for the latest actionable visual storytelling ideas you - the marketer or business leader - can easily apply to your business today! Host Shlomi Ron, CEO of the Visual Storytelling Institute, brings you a premium blend of notable visual storytellers from diverse industries as he digs deeper into their journeys, failures, successes, and lessons learned. For a full cross-media storytelling experience, each episode is distributed on audio, video, and blog post.
In this episode, I chat with William Warren, Founder & CEO of The Sketch Effect. His company is harnessing the power of visual communication to make their clients' ideas understandable, memorable, and shareable. The art of live sketching at events is a fantastic example of visual storytelling at its best. 
What you will learn?
What is live sketching? Are there several types? What benefits does it provide? And in what contexts?

How do you define Visual Storytelling from a live sketching perspective?

Can you share a few examples and discuss how the visual story was created? Particular surprising elements you include? Target emotions? And what was the audience's response?

Visual grammar or vocabulary means a) basic narrative elements and b) branded elements, right? How are you customizing a visual vocabulary for your clients?

Live sketching is in essence real-time translation of the spoken word in events into a visual story. Can you talk more about the process of Active Listening your artists apply?

Can you share your top 3 tips on how to bring to life ideas at events with live sketching?
And much more!
Watch this episode on Youtube: https://youtu.be/Jgo0nlE0mtI
Learn more about our guest on VSI blog: hhttps://www.visualstorytell.com/blog/the-art-of-live-sketching-at-events
This podcast is brought to you by the Visual Storytelling Institute (VSI) from Miami, FL. Learn more at VisualStorytell.com
Order Shlomi Ron's new book:  Total Acuity: Tales with Marketing Morals to Help You Create Richer Visual Brand Stories