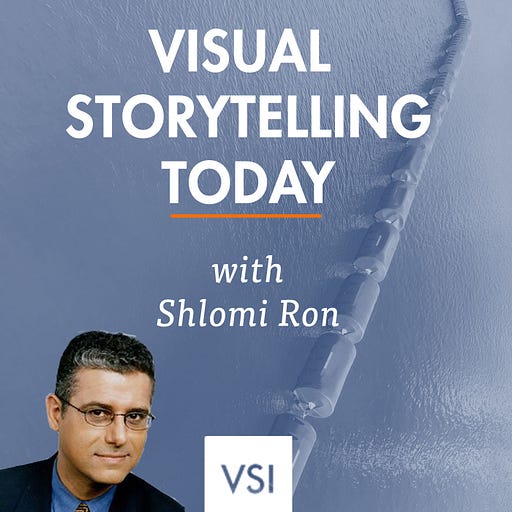 Mar 4, 2019 • 1HR 1M
How to use visual storytelling using in e-learning?
Did you know that people process visuals 60,000 times faster than text and 9 in 10 people prefer information packaged as stories? Welcome to the Visual Storytelling Today show - your #1 source for the latest actionable visual storytelling ideas you - the marketer or business leader - can easily apply to your business today! Host Shlomi Ron, CEO of the Visual Storytelling Institute, brings you a premium blend of notable visual storytellers from diverse industries as he digs deeper into their journeys, failures, successes, and lessons learned. For a full cross-media storytelling experience, each episode is distributed on audio, video, and blog post.
In this episode, I chat with Yannis Angelis, Narrative Futurist, and co-founder at Beyond Storytelling Network. We talked about his journey as a business storyteller, and how he applied visual storytelling in his e-learning programs while working for a medical device company.
About our guest
He has been working for more than 25 years in organizations in different roles, mainly Training, Strategy planning, Marketing, and Communication. His work is informed by the principles of Gestalt Psychology, Theory U, Narrative Therapy and the Art of Hosting. He facilitates teams on storytelling, collaboration, learning strategies, innovation and future making in a disruptive world. He coaches and curate individuals on their career path, and designs and hosts events on organizational change and personal transformation such as INTAGIO, and BERLIN CHANGE DAYS - to name a few. He has recently co-authored "Beyond Storytelling", a book which demonstrates how to work with stories in organizations, communities and as an individual.
What you will learn:
How you can use e-learning to train your audience?

What are the key visual storytelling techniques you could use?

How to measure the success of your e-learning program?

What the future lies fore-learning evolution>?

And much more
This podcast is brought to you by the Visual Storytelling Institute (VSI) from Miami, FL.
Looking to learn more about how to unleash the power of visual storytelling in your business?