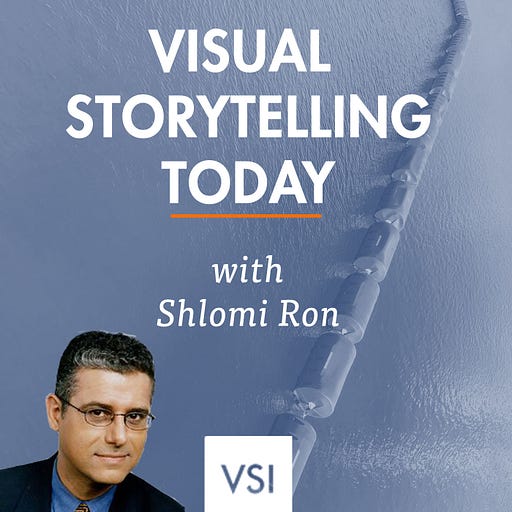 Apr 9, 2019 • 41M
How to use portrait photography to maximize your first impression?
Did you know that people process visuals 60,000 times faster than text and 9 in 10 people prefer information packaged as stories? Welcome to the Visual Storytelling Today show - your #1 source for the latest actionable visual storytelling ideas you - the marketer or business leader - can easily apply to your business today! Host Shlomi Ron, CEO of the Visual Storytelling Institute, brings you a premium blend of notable visual storytellers from diverse industries as he digs deeper into their journeys, failures, successes, and lessons learned. For a full cross-media storytelling experience, each episode is distributed on audio, video, and blog post.
In this episode, I chat with Kirk Francis, Portrait Photographer, and Artist. We talked about his journey of becoming an expert portrait photographer, his end-to-end process for maximizing first impression, tricks and tips, client examples and much more.
About our guest
It's not about cameras, pixels or film, lenses or photoshop, it's the joy of capturing the human experience. Getting someone to understand they ARE a beautiful human, their message is important and capturing that in a portrait. Creating portraits that help people impact the difference they hope to make in the world is what gives me joy. Kirk's goal is to empower humans with Confidence - Personality - Approachability - and a serious dose of Lookability and help them accomplish the change they want to make!
What you will learn:
How does portrait photography relate to visual storytelling?

What are the key visual storytelling techniques you could use in his photography?

How does the end-to-end process look like for creating a winning portrait photo for your social media profiles?

How to measure the success of your portrait photo?

And much more
Learn more about our guest on his blog post: https://www.visualstorytell.com/blog/how-to-use-portrait-photography-to-maximize-first-impression
This podcast is brought to you by the Visual Storytelling Institute (VSI) from Miami, FL.
Need help extracting your business narrative? Schedule a FREE conversation to inquire about our Story Making program.