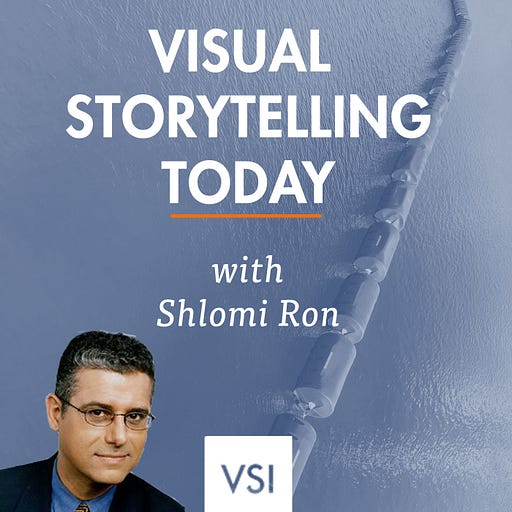 Oct 12, 2018 • 1HR 0M
How to use ethnographic research to tell a meaningful brand narrative?
Did you know that people process visuals 60,000 times faster than text and 9 in 10 people prefer information packaged as stories? Welcome to the Visual Storytelling Today show - your #1 source for the latest actionable visual storytelling ideas you - the marketer or business leader - can easily apply to your business today! Host Shlomi Ron, CEO of the Visual Storytelling Institute, brings you a premium blend of notable visual storytellers from diverse industries as he digs deeper into their journeys, failures, successes, and lessons learned. For a full cross-media storytelling experience, each episode is distributed on audio, video, and blog post.
In this episode, I chat with Tory Gentes, an Immersive Ethnographer, and partner at The Palmerston Group. We talked about what is Ethnographic Research, why marketers should adopt ethnography as part of getting to know better their audience - a paramount ingredient for creating a powerful brand narrative, what are the typical business objectives marketers should consider, and the various on and offline tools an ethnographer uses to get the backstories behind the hard data.
About our guest
Tory resides mostly out of her suitcase; however, she has roots in New Hampshire and a strong affinity for living in Colorado. She has a deep love for travel and people, which has helped set the foundation for her journey into qualitative market research as an immersive ethnographer. Tory has been throughout North America, Africa, and Asia collecting ground-level insights from individuals, CEOs, founders, NGOs, and community members that she leverages to solve strategic business questions. With a background in entrepreneurship, leadership, and business, Tory has also managed numerous initiatives for Academic Institutions, NGOs, businesses, and international organizations. She's found her specialty and expertise at the nexus of culture, human behavior, and marketing. Specializing in immersive research methodologies, Tory has conducted focus groups, in-depth interviews, ethnographies, ideation sessions, surveys, and workshops. As a partner in The Palmerston Group, she works with big brands to help uncover the unspoken nuances of their consumers and bring them to life (beyond their buying habits). In a world of big data, Tory helps answer the WHY behind human behavior.
What you will learn:
what is Ethnographic Research?

Why marketers should care about Ethnographic Research when creating an effective brand narrative?

What are the typical business objectives marketers should consider?

What is the end-to-end process for launching an Ethnographic Research program?

What are the misconceptions about Ethnographic Research?

What are the most essential tips on how to get started?

And much more
Read our episode's blog post on VSI Blog.
This podcast is brought to you by the Visual Storytelling Institute (VSI) from Miami, FL. Ready to launch a new product and need a powerful brand narrative and engaging visual assets?