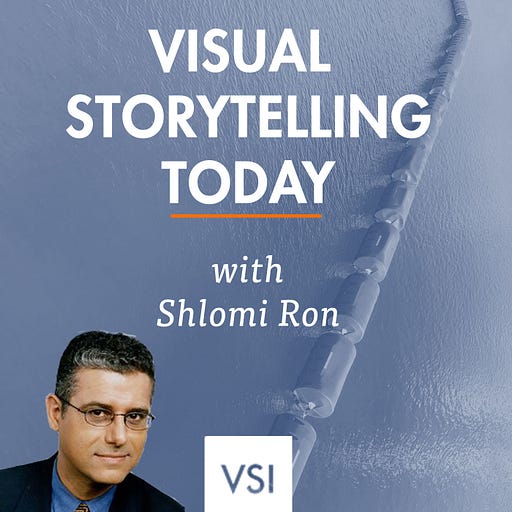 Jan 25, 2019 • 52M
How to transform stories using emerging visual media?
Did you know that people process visuals 60,000 times faster than text and 9 in 10 people prefer information packaged as stories? Welcome to the Visual Storytelling Today show - your #1 source for the latest actionable visual storytelling ideas you - the marketer or business leader - can easily apply to your business today! Host Shlomi Ron, CEO of the Visual Storytelling Institute, brings you a premium blend of notable visual storytellers from diverse industries as he digs deeper into their journeys, failures, successes, and lessons learned. For a full cross-media storytelling experience, each episode is distributed on audio, video, and blog post.
In this episode, I chat with Rafael Baldwin, Digital Media Storyteller at Miami's renowned New World Symphony. We talked about his journey, growing up in Mexico in a family with a long tradition of TV and film production, his work as a film producer and his thoughts about how to take advantage of emerging visual media to tell compelling stories.
About our guest
Single, multi-camera, and VR/360° immersive television director and producer working at the intersection of filmmaking, sound and music production, computer programming, and human interaction. I've been responsible for coverage and special transmissions of the BAFTA Awards, Cannes, Venice, Berlin, San Sebastian, Sundance Europe, and London Film Festivals, The Royal Wedding in Britain, the Coronation of King Philip VI of Spain, the London 2012 Olympic and Paralympic Games, and the NFL at Wembley. I directed the award-winning Virtual Reality documentary "Mission: Frost Science" in collaboration with the Frost Science Museum of Miami. I am the Digital Media Storyteller of Michael Tilson Thomas' New World Symphony orchestra of Miami Beach, and Professor of VR/360º Immersive Storytelling for undergraduate and postgraduate students at the University of Miami. 
What you will learn:
What are the top trends in emerging visual media this year?

What is the process Rafael uses to transform stories using emerging visual media at the New World Symphony?

What are 

What are some of the industry's best practices in emerging visual media?

And much more
This podcast is brought to you by the Visual Storytelling Institute (VSI) from Miami, FL.
Read Rafael's top 3 emerging visual media trends to watch out for in 2019: http://www.visualstorytell.com/blog/how-to-transform-stories-using-emerging-visual-media
Looking to learn more about how to unleash the power of visual storytelling in your business?