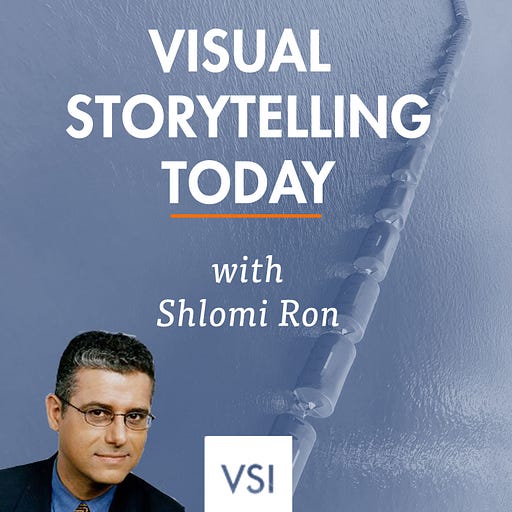 Jun 9, 2017 • 40M
How to transform corporate culture through art?
Did you know that people process visuals 60,000 times faster than text and 9 in 10 people prefer information packaged as stories? Welcome to the Visual Storytelling Today show - your #1 source for the latest actionable visual storytelling ideas you - the marketer or business leader - can easily apply to your business today! Host Shlomi Ron, CEO of the Visual Storytelling Institute, brings you a premium blend of notable visual storytellers from diverse industries as he digs deeper into their journeys, failures, successes, and lessons learned. For a full cross-media storytelling experience, each episode is distributed on audio, video, and blog post.
"Cartoons are fun, simple and also minimalist, you don't need a lot of details, so your message comes out loud and clear and that's very liberating. They also can hit somebody in 5 seconds"~Hugh MacLeod
Hugh MacLeod has been drawing about life and business for over twenty years. Mission, purpose, and meaning are the cornerstones of the message behind his art. At the heart of Hugh's work is one core belief: art has the power to transform business. Art can express ideas, vision, beliefs, culture, and purpose faster, better and more deeply than any other method of business communication.
Art, particularly cartoons, are perfect for conveying the root of an idea in a way that starts a dialogue between the right people. Hugh harnesses art in a way that helps businesses confront tough problems, parses complex human relationships and engages employees to collaborate on solutions. Together with his business partner Jason Korman, Gapingvoid Ltd. has created custom artwork for some of the largest companies, including Intel, HP, Microsoft, Roche, Zappos, VMWare, and VW- and is hung in over 5,000 companies around the world.
Hugh is a highly-regarded author, writing on the themes of innovation, creativity, and motivation. His book "Ignore Everybody" was downloaded over 5 million times since being posted on his popular marketing blog and enjoyed by readers all over the world. Re-imagined in print form, the book "Ignore Everybody" made the Wall Street Journal's best-sellers list.
In this episode, Alex talks with Hugh about: 
How he moved from copywriting to cartooning

What are the emotional drivers behind his most effective art and cartoons

How he uses visual imagery to drive organizational culture change for major brands

Top takeaways marketers can use to harness power of visual media
This podcast is brought to you by the Visual Storytelling Institute (VSI) from Miami, FL. Learn more at www.visualstorytell.com