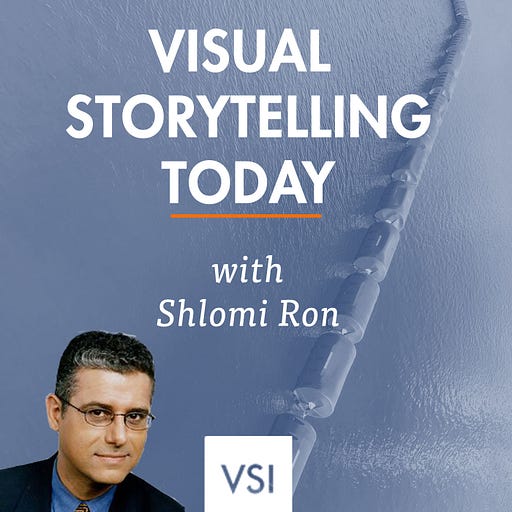 Nov 1, 2019 • 50M
How to Personalize Your Visual Stories Without Creeping Out Your Audience?
Did you know that people process visuals 60,000 times faster than text and 9 in 10 people prefer information packaged as stories? Welcome to the Visual Storytelling Today show - your #1 source for the latest actionable visual storytelling ideas you - the marketer or business leader - can easily apply to your business today! Host Shlomi Ron, CEO of the Visual Storytelling Institute, brings you a premium blend of notable visual storytellers from diverse industries as he digs deeper into their journeys, failures, successes, and lessons learned. For a full cross-media storytelling experience, each episode is distributed on audio, video, and blog post.
In this episode, I chat with Vince Jeffs, Senior Director, Product Strategy, Marketing AI & Decisioning at Pegasystems. We talked about what is hyper-personalization in the age of AI and what are the implications for visual storytellers.
A bit about Vince, he is Senior Director, Product Strategy, Marketing AI & Decisioning, at Pegasystems, where he's responsible for Product Strategy, positioning, messaging, and thought leadership for Pega's Decision Hub – "Always-On Customer Engagement Brain", which uses artificial intelligence & machine learning to optimize customer engagement. Vince has over 25 years of experience in Marketing Technology (Martech) and CX / CRM systems, working for IBM, Unica, and Saas to name a few.
I especially like the two mind-boggling examples of hyper-personalization Vince shares: the first brand got it wrong and annoyed its audience, while the second brand even though got it right, crossed into the creepiness zone and created an uproar. Watch the full stories.
What you will learn:
What are the definitions of hyper-personalization and creepiness marketers should watch for?

How does hyper-personalization affect visual stories (e.g., videos, images, infographics, etc)?

What are the key examples of hyper-personalization that are in the creepiness zone?

What are simple tips visual storytellers could take to avoid hyper-personalization and annoying audiences?

And much more.
Learn more about our guest on VSI blog:https://www.visualstorytell.com/blog/how-to-personalize-visual-stories-without-creeping-out-your-audience
This podcast is brought to you by the Visual Storytelling Institute (VSI) from Miami, FL.
Order Shlomi Ron's new book:  Total Acuity: Tales with Marketing Morals to Help You Create Richer Visual Brand Stories