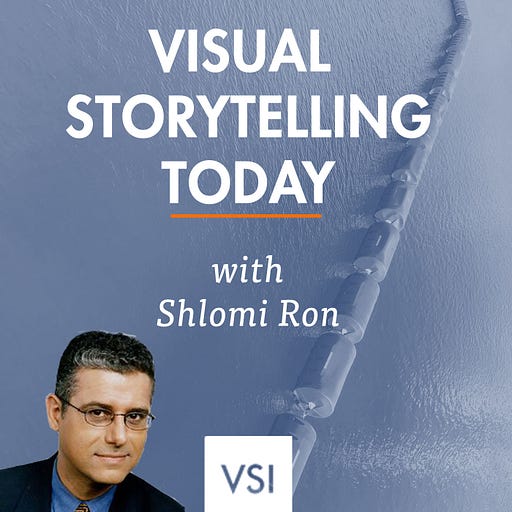 Oct 12, 2019 • 48M
How to Manage Visual Stories at Scale?
Did you know that people process visuals 60,000 times faster than text and 9 in 10 people prefer information packaged as stories? Welcome to the Visual Storytelling Today show - your #1 source for the latest actionable visual storytelling ideas you - the marketer or business leader - can easily apply to your business today! Host Shlomi Ron, CEO of the Visual Storytelling Institute, brings you a premium blend of notable visual storytellers from diverse industries as he digs deeper into their journeys, failures, successes, and lessons learned. For a full cross-media storytelling experience, each episode is distributed on audio, video, and blog post.
In this episode, I chat with Sanjay Sarathy, VP Marketing at Cloudinary, a global powerhouse in providing comprehensive media asset management and automation for some of the world's most recognizable and engaging brands.
Throughout our discussion, we homed in on the opportunities that visual media – both images and video – present for capturing and retaining consumer attention. We discuss actionable best practices for managing visual assets in a fast-moving and hyper-complex digital environment, including a framework for evaluating the tradeoff between time spent manually curating assets and automating most of the workflow.
We talked about what is visual storytelling in today's fragmented communication landscape, how marketers can manage their visual content on cloud-based platforms, how the end-to-end process looks like, key industry examples, AI and content personalization, common misconceptions about visual content platforms, how to measure success criteria of your visual content, the future for cloud-based visual content platforms and much more.
What you will learn:
How can marketers manage their visual content on cloud-based platforms?

Key industry examples

How do AI and content personalization help to manage and customize visual stories at scale?

What are the common misconceptions about cloud-based visual content platforms?

And much more
Learn more about our guest on VSI blog: https://www.visualstorytell.com/blog/how-to-manage-visual-stories-at-scale
This podcast is brought to you by the Visual Storytelling Institute (VSI) from Miami, FL.
Ready to emotionally move your audience into action?Learn more about how VSI's Production Studio could help elevate your visual storytelling game.