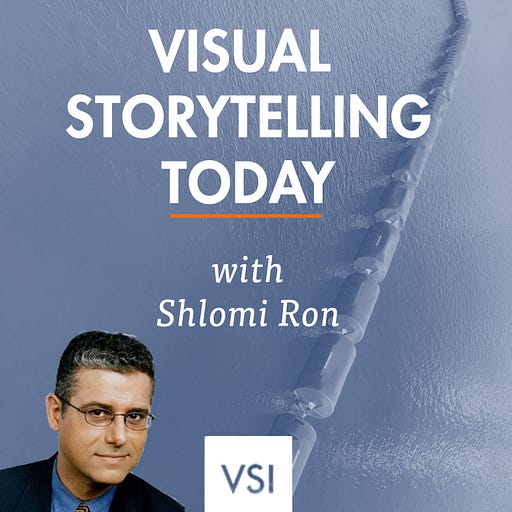 Dec 30, 2018 • 46M
How to make your audience visualize your story?
Did you know that people process visuals 60,000 times faster than text and 9 in 10 people prefer information packaged as stories? Welcome to the Visual Storytelling Today show - your #1 source for the latest actionable visual storytelling ideas you - the marketer or business leader - can easily apply to your business today! Host Shlomi Ron, CEO of the Visual Storytelling Institute, brings you a premium blend of notable visual storytellers from diverse industries as he digs deeper into their journeys, failures, successes, and lessons learned. For a full cross-media storytelling experience, each episode is distributed on audio, video, and blog post.
In this episode, I chat with Park Howell, Business Storytelling Strategist at Business of Story. We talked about his journey as an early pioneer of business storytelling, what tactics he uses to bring to life business stories both in his audience minds (aka theater of the mind) and externally through rich visual aids. Park also shares a few insightful success stories from his clients and simple, yet actionable tips you don't want to miss.
About our guest
Park was honored as Advertising Person of the Year in 2010 by the American Advertising Federation of Metro Phoenix. His agency was also recognized among the Top 10 Impact Companies in Arizona by the Phoenix Chamber of Commerce. He created the communications curriculum (based on the Story Cycle) and teaches in the Executive Master of Sustainability Leadership program at Arizona State University to help international B2B executives advance their social initiatives further, faster through the power of story.
What you will learn:
Can you describe how do you apply visual storytelling in your approach with clients?

What are the typical business objectives clients ask your help with?

What are the common misconceptions or challenges business leaders have today about business storytelling?

What was a great lesson you've learned from a failure when working with clients using a visual storytelling experience?

How do you measure the success of your visual storytelling program? Are there any specific KPIs, metrics?

Where do you see the future of visual storytelling is headed?

And much more
This podcast is brought to you by the Visual Storytelling Institute (VSI) from Miami, FL.
To read this episode's full show notes: http://www.visualstorytell.com/blog/how-to-make-your-audience-visualize-your-story
Looking to learn more about how to unleash the power of visual storytelling in your business?