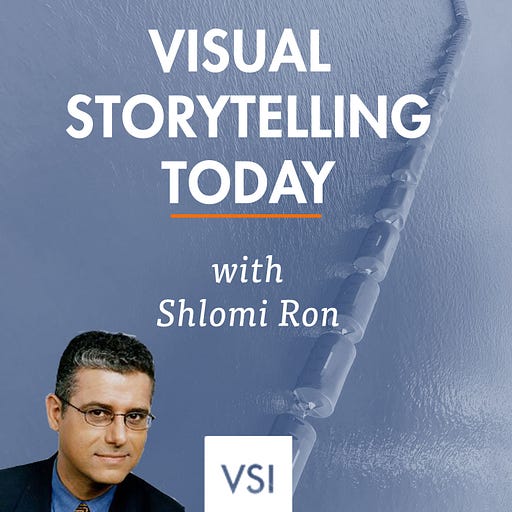 Sep 1, 2017 • 50M
How to Harness the Power with User-Generated Content?
Did you know that people process visuals 60,000 times faster than text and 9 in 10 people prefer information packaged as stories? Welcome to the Visual Storytelling Today show - your #1 source for the latest actionable visual storytelling ideas you - the marketer or business leader - can easily apply to your business today! Host Shlomi Ron, CEO of the Visual Storytelling Institute, brings you a premium blend of notable visual storytellers from diverse industries as he digs deeper into their journeys, failures, successes, and lessons learned. For a full cross-media storytelling experience, each episode is distributed on audio, video, and blog post.
In the last 50 years, the amount of ads and brand content we get exposed to on a daily basis has increased from 500/day to ~5000/day. This growing information overload, coupled with decreasing attention spans required marketers to figure out new ways to break through the clutter.
In this episode, we'd like to talk about the drivers for the rise of user generated (UGC) marketing and how to harness its power with visual storytelling. UGC marketing falls under earned media where 93% of consumers find UGC to be helpful when making a purchasing decision (source: Adweek). Why? User generated content is more authentic, and believable than official brand content. It offers unbiased customer perspectives. This humanizing effect builds trust with audiences and drives engagement.
About our guest
Our guest, is Tim Sae Koo, CoFounder, and CEO at Tint, which is a platform that helps brands aggregate, curate and display any social media feeds anywhere they want. With so much marketing noise out there today, people are turning to real people they trust, not ads. That's why over 5,000+ brands like the United Nations, Krispy Kreme, Loews Hotels, Nestle, and LeanIn have turned to TINT to provide them a robust platform that allows them to incorporate their authentic customer content into the heart of their marketing.
In this episode, Shlomi talks with Tim about:
Why knowing how to drive user generated marketing is a must-have in today's overcrowded attention economy?

How to create an effective user generated marketing strategy, leveraging visual storytelling?

What are the best examples of leveraging UGC marketing as part of a larger visual storytelling strategy?

How do you measure the success of a UGC marketing program?

What are simple UGC marketing tips marketers could apply to their business today?
Read our guest's blog post about this topic on VSI Blog: http://bit.ly/2vpKGUe 
This podcast is brought to you by the Visual Storytelling Institute (VSI) from Miami, FL.
Looking for a custom Visual Storytelling program for your company? Learn more at www.visualstorytell.com.