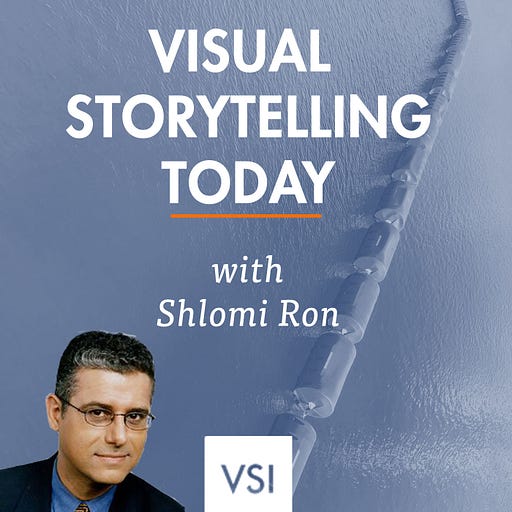 Oct 5, 2017 • 49M
How To Engage Audiences With AR/VR And Immersive Visual Storytelling?
Did you know that people process visuals 60,000 times faster than text and 9 in 10 people prefer information packaged as stories? Welcome to the Visual Storytelling Today show - your #1 source for the latest actionable visual storytelling ideas you - the marketer or business leader - can easily apply to your business today! Host Shlomi Ron, CEO of the Visual Storytelling Institute, brings you a premium blend of notable visual storytellers from diverse industries as he digs deeper into their journeys, failures, successes, and lessons learned. For a full cross-media storytelling experience, each episode is distributed on audio, video, and blog post.
Augmented/Virtual Reality revenue forecast is expected to hit $108 billion by 2021. Mobile AR could become the primary driver of a $108 billion VR/AR market by 2021 with AR taking the lion's share of $83 billion and VR $25 billion (source: Digi-Capital).
Are you ready?
With all this action, marketers need to learn how to navigate this new discipline against realistic business objectives, and realize that there are new game rules for developing and distributing immersive experiences. In this session, we'll go over the basic terminology of the entire immersive spectrum; from 360 video, AR, MR to VR. We'll review the business objectives immersive visual storytelling experiences serve, typical mistakes and how you can launch your own immersive visual storytelling strategy.
About our guest
Our guest, is Cathy Hackl, is an Emmy-nominated communicator turned VR & AR, producer, speaker and futuristic content creator. She served as chief communications & content officer for Future Lighthouse, one of the world's top VR studios focused on branded VR narrative, where she collaborated on projects with brands like Sony Pictures Entertainment, Oculus, Beefeater, and William Morris Endeavor.
Hackl was also selected as a 2017 Oculus Launch Pad Fellow, a program designed to support promising diverse VR content creators and help them bring their unique ideas to market. She currently helps innovative tech brands with highly-specialized communications services, while teaching communicators about the latest tools and tech. She's also the founder of Latinos in VR/AR and one of the women leading the virtual revolution. Cathy was named by Onalytica as a leading augmented reality influencer and also by NBC News as one of the top Latina women working in virtual reality.
She has spoken about VR and social media in more than 10 countries and has been featured in media outlets like Mic, CNN, Entrepreneur, VentureBeat, Mic, and Mashable. Hackl is also the co-chair of the VR AR Association's Marketing Committee and a leading voice in the VR AR marketing space.
What you will learn:
What are the definitions for the different kinds of immersive experiences? And why as a modern marketer you should care 

What are the core business objectives immersive visual storytelling are optimal for? And how do you measure success?

What are the new game rules that govern development and distribution of immersive experiences?

What are industry examples from key verticals that demonstrate the power of immersive visual storytelling?

What are simple tips marketers could use to start their own immersive program?
Read our guest's blog post about this topic on VSI Blog.
This podcast is brought to you by the Visual Storytelling Institute (VSI) from Miami, FL.
Looking for a custom Visual Storytelling workshop around your product/service?