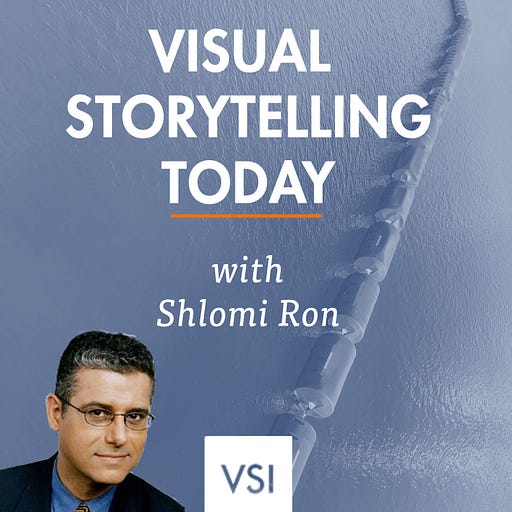 Sep 4, 2020 • 56M
How Brands Can Tell Long-Form Visual Stories?
Did you know that people process visuals 60,000 times faster than text and 9 in 10 people prefer information packaged as stories? Welcome to the Visual Storytelling Today show - your #1 source for the latest actionable visual storytelling ideas you - the marketer or business leader - can easily apply to your business today! Host Shlomi Ron, CEO of the Visual Storytelling Institute, brings you a premium blend of notable visual storytellers from diverse industries as he digs deeper into their journeys, failures, successes, and lessons learned. For a full cross-media storytelling experience, each episode is distributed on audio, video, and blog post.
In this episode, I chat with Nina Jacobsen, Co-founder, CEO, and Helle Jabiri, Co-founder, CCO of Biites.com, a brand film platform headquartered in Copenhagen, Denmark. We met on LinkedIn where we realized that we shared the same vision of how visual storytelling can effectively bring to life brand narratives. Nina and Helle are looking to revolutionize branded long-form films and give them the center stage they truly deserve. In this sense, think of Biites as the Netflix for branded visual stories offering high-quality visual storytelling without any ad interruption, and viewed in an optimal cinematic experience.   Some of the questions we discussed:
What is our definition of effective visual storytelling?

Why Biites believes an increased focus on quality in the distribution of brand films will help increase your engagement time with an audience?

How long-form branded entertainment formats are on the rise?

Why do we believe that brands have a crucial role to play in the education of society and consumers within their respective industries?

What are the various types of visual stories we are featuring on Biites and our curation criteria?

How long-form visual stories can drive top and lower funnel impact?

We'll also share 2 examples of successful visual stories

What are our top 3 tips for creating compelling long-form visual stories to support a larger brand narrative?

And much more!
Watch the video recording of this episode:  https://www.visualstorytell.com/blog/how-brands-can-tell-long-form-visual-stories  
This podcast is brought to you by the Visual Storytelling Institute (VSI) from Miami, FL. Learn more at VisualStorytell.com
Order Shlomi Ron's new book:  Total Acuity: Tales with Marketing Morals to Help You Create Richer Visual Brand Stories