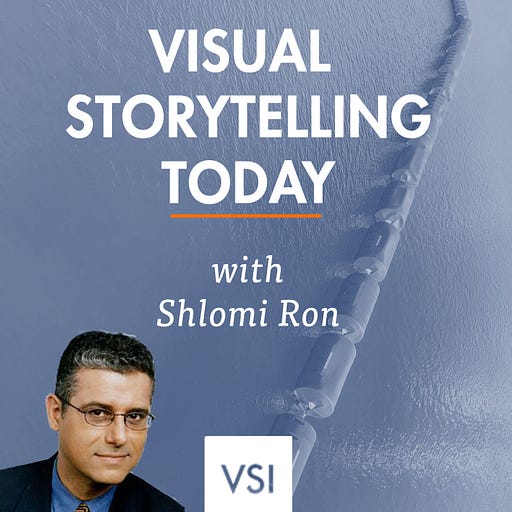 Dec 19, 2017 • 1HR 2M
2018 visual storytelling trends to watch for
Did you know that people process visuals 60,000 times faster than text and 9 in 10 people prefer information packaged as stories? Welcome to the Visual Storytelling Today show - your #1 source for the latest actionable visual storytelling ideas you - the marketer or business leader - can easily apply to your business today! Host Shlomi Ron, CEO of the Visual Storytelling Institute, brings you a premium blend of notable visual storytellers from diverse industries as he digs deeper into their journeys, failures, successes, and lessons learned. For a full cross-media storytelling experience, each episode is distributed on audio, video, and blog post.
In this episode, I chat with my good friend and digital futurist Geoffrey Colon at Microsoft. We reviewed the road visual storytelling has already made, crossing the lines from the entertainment world to marketing and what to expect in the near future.
About our guest
Geoffrey Colon is a compelling voice at the intersection of marketing, tech, and popular culture. DJ, data punk, podcaster and author, Geoffrey is a Communications Designer at Microsoft in Redmond, WA. Colon has written for or been quoted in media outlets including Business Insider, Fast Company, The Huffington Post, The Guardian, Wall Street Journal, Billboard Magazine, Adweek, and Entrepreneur. He has also appeared on Cheddar TV, NASDAQ Live, WABC-AM New York, and Marketplace on NPR. He is an avid speaker on the global marketing conference circuit and has keynoted events in New York City, Los Angeles, San Francisco, Berlin, Chicago, Dallas, Denver, Seattle, Bangkok, Portland, Raleigh, Porto Alegre, Sao Paulo, Oslo, and Tromso. Disruptive Marketing is his first book. Geoffrey is producer/host of the video series CULTURE JAMMING on LinkedIn and the podcast DISRUPTIVE FM w/ Cheryl Metzger. He is a regular contributor to Branding Strategy Insider. He is also featured regularly on LinkedIn and the Bing Ads blog. Prior to joining Microsoft in 2013, Geoffrey was vice president of digital strategy at Ogilvy & Mather in New York City.
What you will learn:
Why is visual storytelling vital for marketers in 2018 and beyond?

What are the typical business objectives marketers could use visual storytelling for?

What are the top 2018 visual storytelling trends to watch for?
Read our episode's blog post about this topic on VSI Blog.
This podcast is brought to you by the Visual Storytelling Institute (VSI) from Miami, FL.